I saw at least two web pages saying that the reference slice can be chosen during slice timing correction. For example, http://www.fil.ion.ucl.ac.uk/spm/doc/manual/spatial.htm. I disagree.
Let's take the first volume as example. Assume TR=2 and number of slices are 31. During data analysis (GLM or ROI analysis), we assume that the first volume is at time 0. In reality, the first acquired slice in this volume is at time 0, the 2nd is at time 2/31, the 3rd 4/31, and so on. The 31st slice is acquired at time 60/31. So except for the first acquired slice, the timing of all other slices should be corrected (or shifted) to time 0. That means, only the 1st acquired slice can be the "reference slice". Reference slice is not a choice in data preprocessing step.
In SPM's convention, slice #1 is the most bottom slice which may or may not be the first acquired slice depending on the slice order. Assume the slice order is descending (meaning data are acquired from top to bottom). Then the first acquired slice is slice #31; and the last acquired is slice #1. So in this case, the reference slice should be 31, and the slice order is 31, 30, 29, …, 1.
Choosing a wrong reference slice can affect the timing of your signal. Below I plotted the fMRI signal time series in motor cortex in a finger tapping experiment (tapping for 15s, rest 20s). The top plot is for reference slice = 1, the middle plot is for reference slice = 31. For the bottom plot, I did not do slice timing correction at all. I simply plot the time series in this region (which is at slice #23, or 0.5 seconds away from #31). The vertical line indicates the onset of tapping instruction. Click to zoom the figure.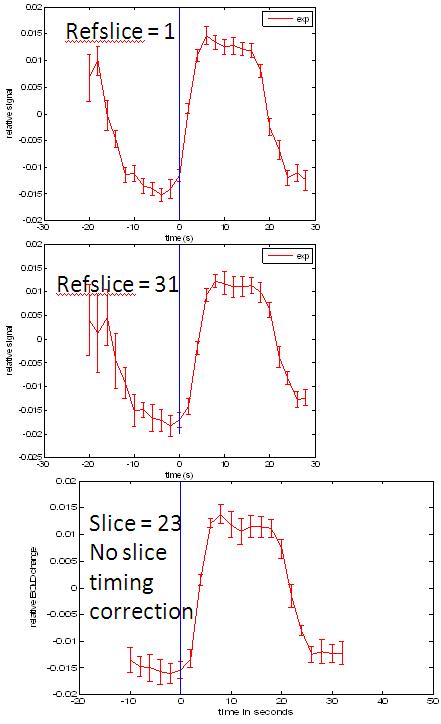 You can see from the above plot that the rising timing of the signal can be off by 2s if difference reference slice is chosen. Does this matter? It depending on if timing is important to your experiment. For a block design, it's probably fine; but for event design, or when the question you address is about timing, then this is important.
(The only preprocessing done on the images are reslicing to the first volume. No normalizing, smoothing etc ).
---
Receive email notification via email
---
Don't want to miss new papers in your field? Check out Stork we developed: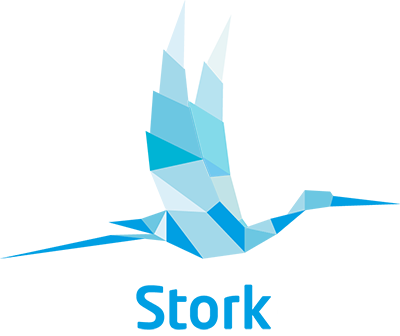 ---